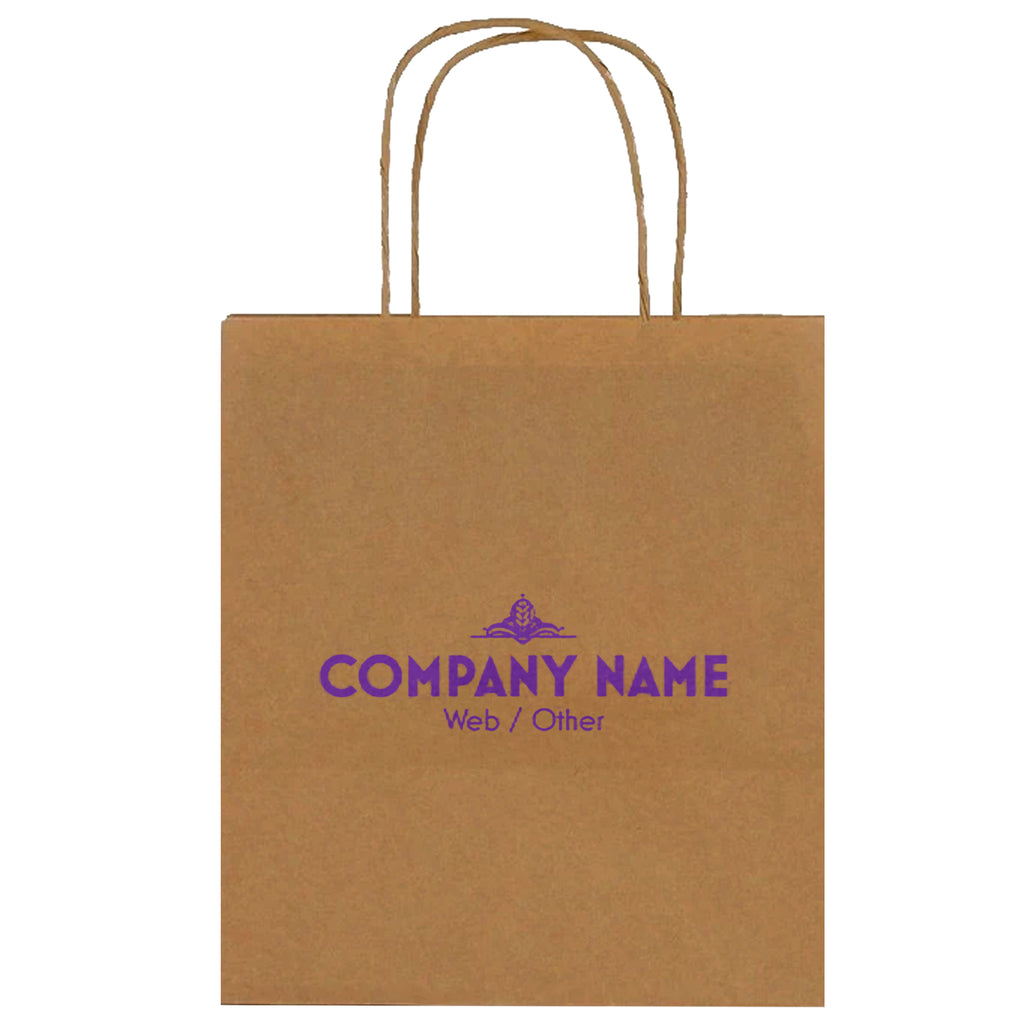 Custom Paper Bags — Standard Printing
---
---
---
Printed weight-resistant shopping bags made of high quality grammage paper.
Handles made of twisted paper allow for support of heavier loads.
Delivered to you folded flat which has the benefit of saving storage space.
These bags are made of 100% recycled paper and are recyclable.
Paper Bag FAQ
How are bags measured?
Dimensions of bags are listed in the following order: Width x Depth x Height.
What is the print coverage area?
| | |
| --- | --- |
| Bag Size | Print Area |
| 5.25" x 3.5" x 8.25" | 3" x 4" |
| 5.25" x 3.5" x 13" | 3" x 6" |
| 6.5" x 3.5" x 13" | 3" x 6" |
| 8" x 5" x 8" | 6" x 4" |
| 8.25" x 4.75" x 10.5" | 6" x 5" |
| 10" x 5" x 13" | 7" x 8" |
| 13" x 7" x 13.5" | 9" x 8" |
| 13" x 7" x 17" | 9" x 9" |
| 14" x 10" x 15.5" | 10" x 9" |
| 16" x 6" x 19" | 10" x 11" |
| 18" x 7" x 18.75" | 10" x 11" |
| 24" x 7" x 18.75" | 10" x 11" |
What's a printing plate?
Printing on a bag is not exactly the same process as printing on a piece of paper. In order to print on a bag, a printing plate must first be custom-made according to your artwork. During the printing process, the plate is loaded with ink and is then used to apply the ink unto the bag. That being said, we have some good news and some not so good news. The not so good news is that the plate will cost you on your first order. The good news is that the plate can be reused over and over! So for your subsequent orders, you'll only be paying for the bags.
Is my artwork image adequate?
We accept any of the following artwork image file formats: .jpg .jpeg .doc .pdf .ai .eps .svg .png .gif .tif .psd .indd.
Please rest assured that we double-check all artwork files prior to printing. This allows us to be certain of obtaining a high quality print. Should we find an issue with your submitted file, we will contact you to notify you of the issue. In most cases a simple tweak will fix the issue. We will gladly assist you in the process to make sure that your artwork complies to a high printing standard.
Can I choose a custom ink color?
You sure can. We can achieve any desired print color. Simply provide your desired ink color in the dedicated field above. You may submit the name of a color (e.g. "Citrus Green") or a color code in either of the following formats: RGB, CMYK or Pantone*. Please note that there is a fixed fee for custom ink colors. The fee covers the meticulous laboratory work required for achieving a specific ink color. Should you opt for a custom ink color, you will be able to see the fee as a line item in the shopping cart screen, prior to checking out.

*A Pantone color code is a numeric code often used by companies to communicate their logo's color. For example, suppose Ford Motor Company was to order paper bags with their logo on it, they wouldn't just want any shade of blue. They would therefore submit a particular Pantone color code that corresponds to their exact shade of blue. Our print department has a color swatch book with every possible Pantone color in it. Our technicians can therefore perform a sample printing run and compare the obtained color with the color displayed in the swatch book, thereby ensuring a perfect match.
What is the lead time?
Our custom-printed bags will ship out to you within 1-2 weeks.
Will all my bags arrive in 1 big case?
Regardless of the quantity of bags you purchase, they will always be conveniently packaged and shipped to you in cases of 200 or 250 bags. For example if you order 500 bags, your order will arrive in 2 cases instead of 1 heavy backbreaking case.

Can you create an artwork for me?
Yes. When it comes to artwork services, we offer anything from file format conversion assistance which is free of charge, to full-on logo designs. Logo designs are billed at the rate of $30.00 per hour.
Can I make a quote request?
We will be glad to discuss large quantities, large coverage, custom handle colors or unusual artwork - just give us a call!
Request a Quote