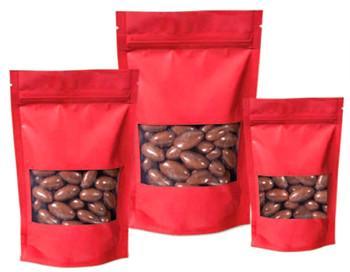 ---
---
---
These reclosable, laminated and airtight bags are also known as

stand up pouches

because of their ability to stay upright on shelves regardless of the density, volume or shape of their contents.
Due to their bottom gusset structure, these bags have the ability to stay upright and are incomparably more stable than other bags.
The bags' ziplock-style closure and laminated inner lining are a formidable barrier against external elements, thereby preserving the contents fresh. Furthermore, these bags are heat-sealable should an additional barrier be desired.
These bags are reusable and are FDA and USDA approved for direct food contact.
Excellent barrier properties against oxygen, humidity, odors and ambient aromas, oil and grease. Furthermore, they are refrigerable and freezable.