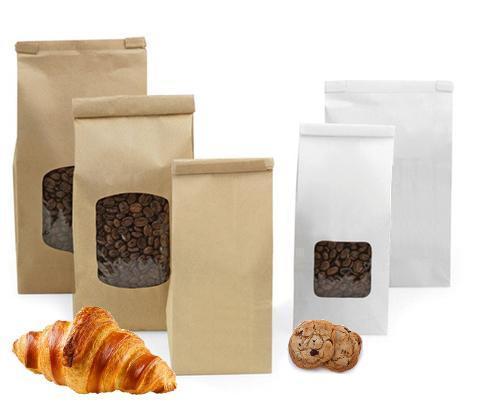 ---
---
---
Reclosable paper bags with interior polypropylene lining to maintain the freshness of foods such as ground or whole bean coffee as well as bakery goods such as cookies, croissants and sandwiches. The polypropylene lining also serves as a grease-resistant barrier, preventing the grease from wicking through the outer paper and staining the bag's exterior. The rustic style of these bags makes them just as well suited for potpourris and soaps as for takeaway foods.
Closing these bags does not require a ribbon, label or heat sealing. In fact these bags have an integrated tab-lock closure known as a tin tie which consists of a tin-wired flap at the top of the bag. The malleable flap makes this bag practical, freshness-locking and easy to close. Simply fold down the flap over the top of the bag and secure the flap in place by folding its lateral ends across to the other side of the bag.
These bags have pleated side gussets and a rectangular flat bottom which allow them to stand up on shelves. Whether they are fully or partially filled, these bags will stand up no problem regardless of the density, volume or shape of your product. Actually their structure allows them to accommodate bulky products such as muffins while avoiding any bulging of the bag. Furthermore these bags have an opening that opens wide, allowing for a particularly easy and clean scooping of granular, powdery and bulk products into the bag.
Versatile, reusable, recyclable, USDA and FDA food safe packaging for direct food contact. The bags' simplicity makes them well suited for a variety of applications including takeout food packaging. Indeed these bags have excellent oxygen, moisture, aroma, oil and grease barrier properties and are refrigerable and freezable.
The weight specified inside the above dimensions corresponds to the weight of coffee that can be accommodated by each bag size.