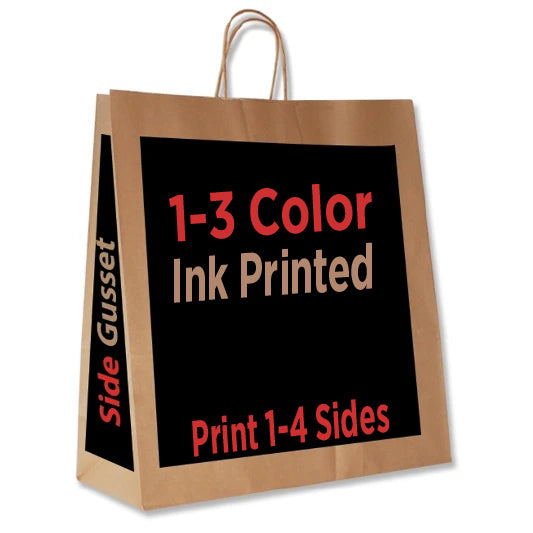 Custom Paper Bags — Deluxe Printing
---
---
---
Printed weight-resistant shopping bags made of high quality grammage paper.
Handles made of twisted paper allow for support of heavier loads.
Delivered to you folded flat which has the benefit of saving storage space.
These bags are made of 100% recycled paper and are recyclable.
Paper Bag FAQ
How are bags measured?
Dimensions of bags are listed in the following order: Width x Depth x Height.
What is the print coverage area?
With our deluxe-printed bags there is no limit to the print coverage area. You can have your bags printed from side-to-side and from top-to-bottom, on all 4 sides.
What's a printing plate?
Printing on a bag is not exactly the same process as printing on a piece of paper. In order to print on a bag, a printing plate must first be custom-made according to your artwork. During the printing process, the plate is loaded with ink and is then used to apply the ink unto the bag. Having said that, we have some good news! For deluxe-printed bags, there are no fees for the printing plates. We only charge for the bags!
Is my artwork image adequate?
We accept any of the following artwork image file formats: .jpg .jpeg .doc .pdf .ai .eps .svg .png .gif .tif .psd .indd.
Please rest assured that we double-check all artwork files prior to printing. This allows us to be certain of obtaining a high quality print.
Once we receive your order, one of our graphic designers will get in touch with you to work out the imprint's layout. If need be, our graphic designers will gladly provide you with mock-up bag images so you can preview your bag's look prior to the start of production.
What is the lead time?
Our deluxe-printed bags will ship out to you within 4-5 weeks.
Will all my bags arrive in 1 big case?
Regardless of the quantity of bags you purchase, they will always be conveniently packaged and shipped to you in cases of 250 bags. So for an order of 6000 bags, the order will arrive to you in 24 cases instead of 1 heavy backbreaking case.
Can you create an artwork for me?
Yes. When it comes to artwork services, we offer anything from file format conversion assistance which is free of charge, to full-on logo designs. Logo designs are billed at the rate of $30.00 per hour.
Can I make a quote request?
We will be glad to discuss large quantities, custom handle colors, imprints involving more than 3 colors or any unusual artwork - just give us a call!
Request a Quote