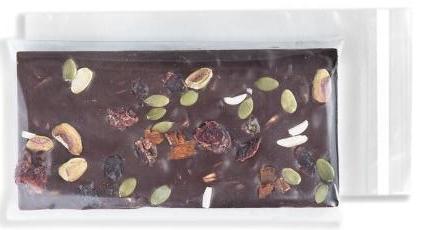 ---
---
---
These transparent bags are made of silky polypropylene which prevents them from sticking to the product.
Ideal packaging for chocolate bars or for sticky candies such as candy canes.
These bags are self-sealing. In the same way that simple bank ATM envelopes are closed, these bags are closed by peeling off the indicated strip to reveal the flap's underlying adhesive lip. The flap is then folded over the opening, and voilà, your bag is now closed...No heat-sealing, ribbons or labels required to close the bag.
High quality reclosable adhesive closure allows for the bags to be reused multiple times.
USDA and FDA food approved.