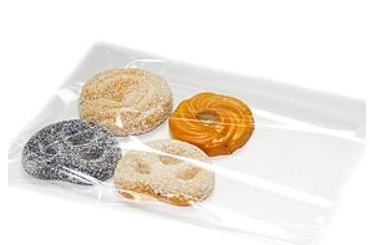 ---
---
---
Flat-shaped bags made of crystal clear 1.2 milliinches(mil)-thick polypropylene
Flat shape makes them ideal for packaging non bulky-products
Heat-sealable
Recyclable and USDA and FDA approved for direct food contact
Excellent barrier properties against oxygen, humidity, odors and ambient aromas, oil and grease. Furthermore, they are refrigerable and freezable.
Archival safe
Custom sizes and thicknesses available. We invite you to contact us with your desired dimensions.
To learn more about this product, we invite you to visit our cellophane bags page.
Flat bags owe their name to their flat structure. This flat structure is one of three available structures in our line of cellophane bags. The below pictures showcase all three types of cellophane bags so that you may consider the three alternatives.